Water Purifiers
Water Purifiers – Are you hot and thirsty? Water purifiers can solve the problem of how to get a safe drink on the trail.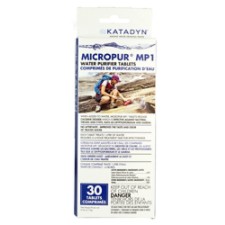 When you are out on the trail, you will need to keep your hydration level up or you risk dehydration, becoming very ill, or even death. By using the correct water purifiers, this problem can be eliminated. The main purpose of water purifiers is to make what you get out of the stream, lake, or pond drinkable.  Katadyn Micropur MP1 Purification Tablets
are the easiest to use.
Water purifiers come in several different sizes and price ranges. The types of water purifiers that are reusable over an extended period of time are generally the most cost effective. Those Purifier Bottles that have replaceable filters may also be more cost effective based on the cost of the replacement parts.
There are 3 basic levels of water purifiers:  Each level higher is an increase in protection for you while you are out in the wild.
The lowest and basic is the MSR Autoflow Gravity Filter
with a level 1 filter system. This basically eliminates protozoa, bacteria, and some viruses.  They generally use a combination of filters and iodine to eliminate most of the impurities, chlorine, bad taste and odor out.
The middle system uses a level 2 filter. This one takes out the Level 1 stuff and takes out most of the heavy metals (mercury, lead, and copper) as well.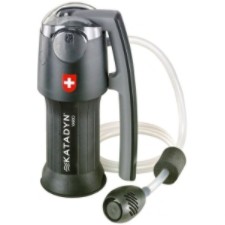 The Katadyn Vario Water Filter
system is a type that you should have when you are going into an area that you don't know what you may be up against is a level 3. These Portable Water Filter Products have a level 2 filter and a sub-micron biological filter included.  This system of water purifiers takes out most of the really bad stuff you may have to deal with, such as bacteria, cysts, and protozoa.
Water purifiers need to be cleaned periodically. They have been removing sand, leaves, biological stuff for you so now you need to clean them to keep your water purifiers in top working condition.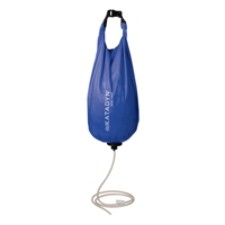 When you are out hiking, backpacking or camping, you may come across several different places that will require the use of water purifiers. Generally, the safest water is from deep spring ground water high up in elevation, next is upland reservoirs and lakes, and usually the ones that need the best water purifiers are the rivers, low land reservoirs and canals.  If you are setting up a basecamp, then a Katadyn Base Camp Water Filter
can provide a steady supply of pure water and that is a great thing to have.
You can't tell how pure your source is just by looking at it so be sure to use your water purifiers at every opportunity to be safe.