Backpacking Stoves
Backpacking Stoves – Using the correct ones will lighten your load, help keep you warm and cook a great tasting meal. What more can you want?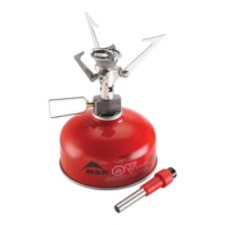 By using the proper kinds of backpacking stoves several good things happen. With an MSR Microrocket Stove
, you have a lighter weight to carry and a good heat source for your cooking needs (a cup of coffee, tea, hot cocoa, soup, or dinner on a cold day always tastes better!).  On a short trip in warmer climates, you just can't beat an Esbit folding stove!
There are many varieties and styles of backpacking stoves available today. As technology improves over time, the weight gets less and the reliability of the backpacking stoves available gets better and better.
The flexibility and convenience of the small and compact Coleman 1 Burner Dual Fuel Stove makes it a great item for backpackers and backwoods campers. This units 10,500 BTU burner can boil a quart of water in four minutes. Its smaller, compact, direct pressure design is easy to pack on the trail and store at home. The stove's 1.1 pint capacity of Coleman Fuel or unleaded gas delivers 1.75 hours of burn time on high setting and 6.5 hours of burn time on low. This is a great lightweight item for backpackers and outdoorsmen.
A different consideration that will also affect the type of backpacking stoves you are considering is the fuel that is used. The most common types are alcohol, butane, propane, and white gas (unleaded – but not generally car gas). The availability in your area may be a point to consider. Another point to consider are the types of containers or canisters that is used to carry the fuel for the backpacking stoves. Is it reusable or disposable, and if it is disposable, where are you going to dispose of it while on the trail?
Backpacking stoves that use the disposable fuel canisters (usually the ones under pressure) tend to weigh more as well as the fuel cylinders themselves. The reusable fuel canisters are generally made of spun aluminum and are very light weight.
Another thing to keep in mind is who is going to be using the backpacking stoves. Are they adults or younger? Safety is always an issue that should not be ignored. If the fuel gets spilled or leaks, a fire can start or an explosion can occur (neither option is a good one). There is also a solid fuel option available for the adventuresome.
A good pocket size ruggedly built steel stove that folds to 3″ x 4″ x 3/4″ and uses 14 gram solid fuel tabs is the Single Burner Esbit Folding Stove.
Another Esbit Folding Stove that is for use with canned heat cooking fuel is also safe and compact.
Another usually more expensive and generally for the more advanced trekker are the ultra-light style of backpacking stoves.  These are designed for the longer treks where more weight is carried and the need to lessen the weight of all items is much more critical.
When used properly, with the correct fuel, and always keeping safety in mind, backpacking stoves will serve you well over many trips and years of use.